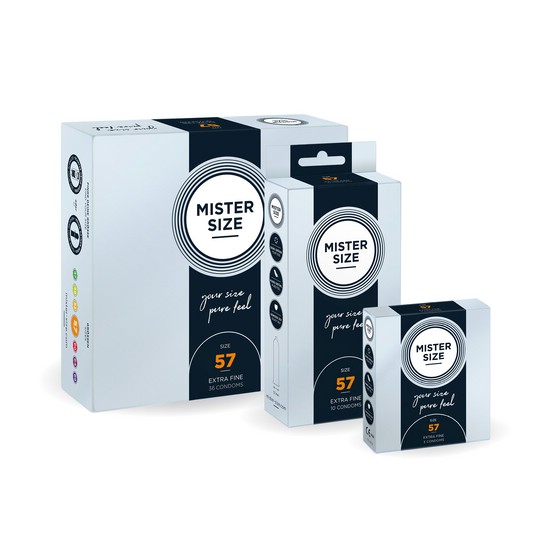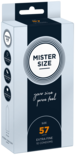 Fabio and 1435 other people love our products
-MISTER SIZE 57 – the generous
Highlights:
generous fit for sensitive sex
close and secure fit without constriction
ultra-thin (0.05 mm) for pure intensity
transparent & smooth
made of natural rubber latex
nominal width of 57 mm
MISTER SIZE 57 is available in the following package sizes:
3 condoms
10 condoms
36 condoms
You can buy MISTER SIZE 57 quickly and easily at the following shops:
More than Average - MISTER SIZE 57
Sometimes standard simply isn't enough! When rolling on the condom, you have probably already experienced the annoyance when it doesn't feel quite so snug. That comes as no surprise, if you haven't found your personal size yet. But from now on you can always have MISTER SIZE 57 with you. With the chemistry now being right, you can newly experience just how light-footed sex actually can be.
Sensitive & Comfortable - Your Own Personally-Sized Condom
If you have always had the feeling that condoms always feel a bit too tight, MISTER SIZE could be like your key to freedom. With your own personal size everything will instantly fit like a glove and during sex you will barely notice that you're actually even wearing a condom. Instead you will be surrounded by the natural feeling of your touch and enjoying blissful moments together.
MISTER SIZE - 7 Condom Sizes for Better Sex
Available in seven different condom sizes, ranging in width from 47 mm to 69 mm, MISTER SIZE is your perfect companion for better sex. You can easily find out which of the sizes is for you by using either the MISTER SIZE Smart, the MISTER SIZE measuring tape or with the practical Condom Sizer.
To get your started, you can also find your size with our Test Packs and then try them out at your leisure. Each pack contains 3 different sizes: 53, 57 and 60.
Your MISTER SIZE 57 Comes in three Different Pack Sizes
Whether it's for a "from time-to-time quickie", occasional sex or for the infatuated "in-love" phase, you can always get your MISTER SIZE 57 in the right package size:
3 pieces - to try out in the field
10 pieces - for your following nights of love
36 pieces – a stockpile for optimists and smart shoppers
If you want to be well supplied, you can certainly order several packs directly from stock that will keep you going for the next weeks and months.
Proven Quality
MISTER SIZE gives you a whole new feeling during sex while at the same time offering optimal safety. All our MISTER SIZE condoms comply with DIN standard EN ISO 4074:2002 and are subject to careful testing. Having a condom with optimal safety breeds confidence and certainty which allows you both to totally relax and let go during love-making. You can learn more about our quality standards in our four basic principles.
MISTER SIZE condoms are not only available in 7 different sizes, so that every man can find his perfect partner when it comes to contraception. They are also thinner and therefore more sensitive than conventional condoms.
Properties
Nominal width: 57 mm
Length: 185 mm
Wall thickness (condom thickness): 0.05 mm
Color: transparent
Shape: cylindrical, ideal fit and easy rolling, with reservoir
Lubricant: extra wet
vegan: yes
Proven Quality
Dermatologically tested and 100% electronically checked
Certification: CE 0120 / ISO 4074
You can find more about our quality standards in our four basic principles.
EAN in stores:
Pack of 3: 4260605480102
Pack of 10: 4260605480119
Pack of 36: 4260605480126
The main component of MISTER SIZE condoms is latex. This is obtained from the rubber tree and is therefore a purely natural product, which, in addition to rubber, mainly consists of water, but also in small parts of resins, proteins and minerals.
Only first-class natural rubber latex from carefully selected suppliers is used for the production of MISTER SIZE condoms. The latex mixture also consists of other ingredients that are responsible for good elasticity, reliable tear resistance and the pleasantly neutral odor.
Complete list of ingredients for MISTER SIZE condoms:
Cis-1,4-polyisoprene (natural rubber latex)
Zinc Diethyldithiocarbamate (accelerator)
Phenol, 4-methyl-, reaction products with Dicyclopentadiene and Isobutene (antioxidant)
Zinc Dibutyldithiocarbamate (accelerator)
Zinc Oxide (vulcanization activator)
Sulphur (vulcanizing agent)
Potassium hydroxide (soap)
Fatty alcohol (soap)